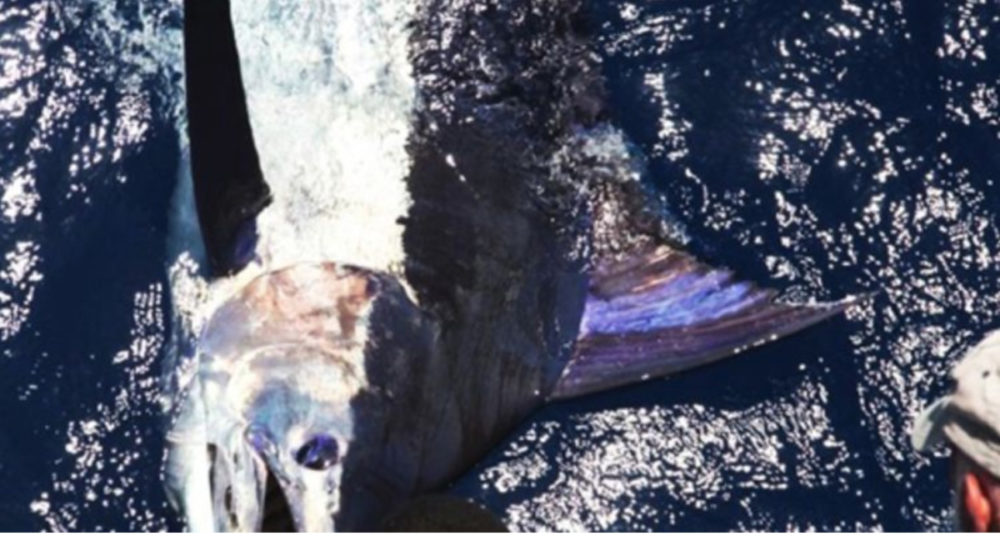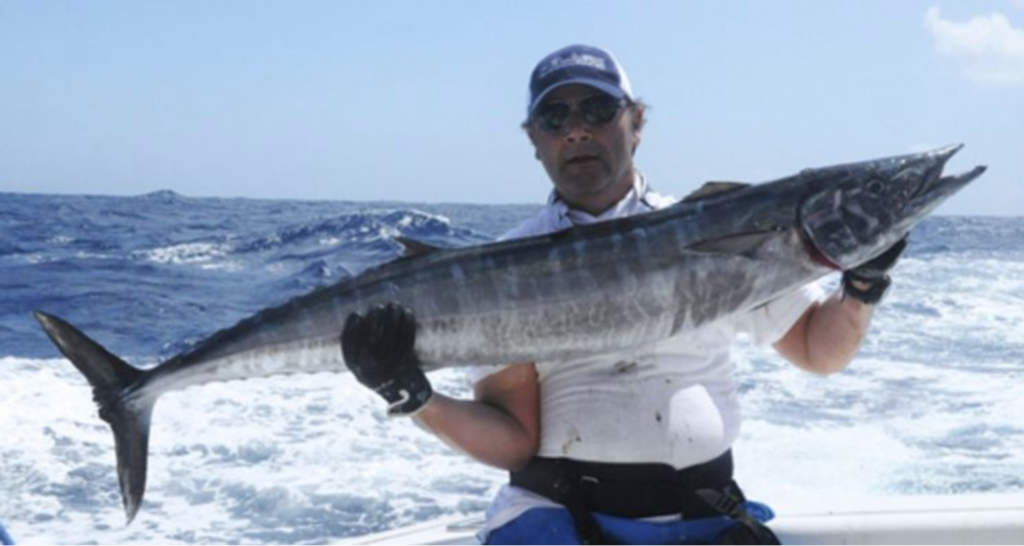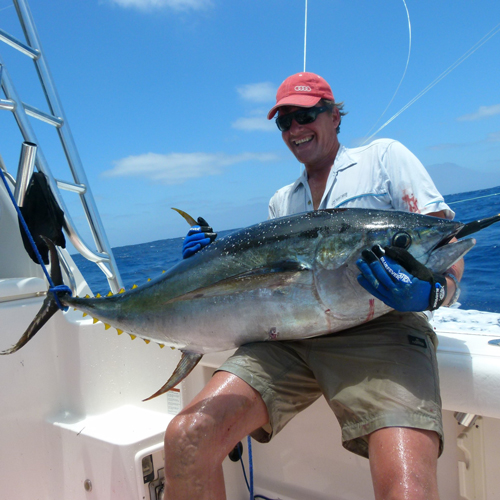 ICEBLUE fishing the Banco Do Noroeste
Where marlins and wahoo live!
I have known the owner of the ICEBLUE since our XXL tuna trip (Canso, Canada 2009); Mark and I then went on to catch big marlins off the Azores in 2012 and together survived quite a few adventures – an friendship between fishermen was born! This was where Timur, Mark and I came up with idea of fishing together in 2013 as the ICEBLUE Team off the Cape Verde Islands. Mark S. is the proud owner of a 44 ft. TIARA; his vessel named ICEBLUE is powered by twin 750 hp Caterpillar diesels and equipped with the very latest in steering and navigating technology and other useful control systems – for me an engineering marvel and an absolutely new steering and boating experience.
In my humble opinion the ICEBLUE is ideally suited to the rough weather conditions in the Cape Verde Islands! It has every conceivable type of first-class sea-fishing gear and accessories on board, all neatly stowed away but quickly ready for action. For the last two years the ICEBLUE has been based at Mindelo Marina on Sao Vicente Island.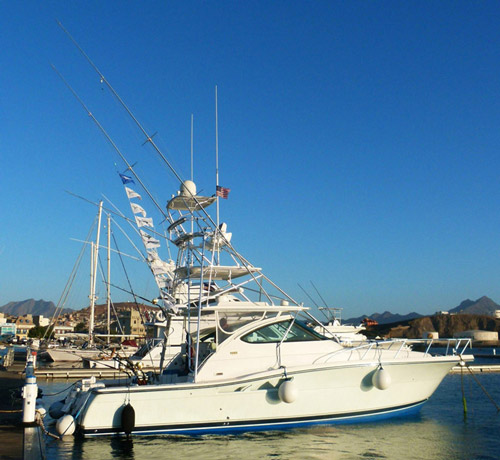 Our adventure began on 24th April 2013 and we flew directly to Sao Vicente together with the first group. On our arrival we found that professional skipper Petro Comez had already serviced the ICEBLUE and had her ready to go. He gave us plenty of in-depth instructions and explanations, many of which were new and invaluable to me! After discussions with local crews and following a recommendation made by Petro we decided to go on trips to the Banco Do Noroeste lasting several days. This "Marlin Eldorado" lies to the northwest of Santo Antao Island, a run of approximately 50 sea miles from Mindelo marina.
To be able to plan and carry out trips like this means you have to stock up with sufficient provisions, make arrangements for sleeping on board and draw up a rota detailing who has to do what work – so the entire project needs a disciplined crew at sea. The participants must also be capable of coping with the weather conditions in the channel and over the bank, which are usually rough. In other words: nobody must be in the least susceptible to sea-sickness. 
We set off at long last on 26th April with the sea looking very lumpy and the wind reaching force 6. We fought our way through the channel towards Santo Antao; our lures had their first taste of salt-water about five sea miles away from the bank.
The lures we used were: The complete BluewaterFishing range and several Pakulla lures; additionally Iland and my home-made wahoo lures. For the safety of the fishermen and crew we fished (as always) with wind-on traces. To prevent injury to the marlins all the lures were rigged with single hooks.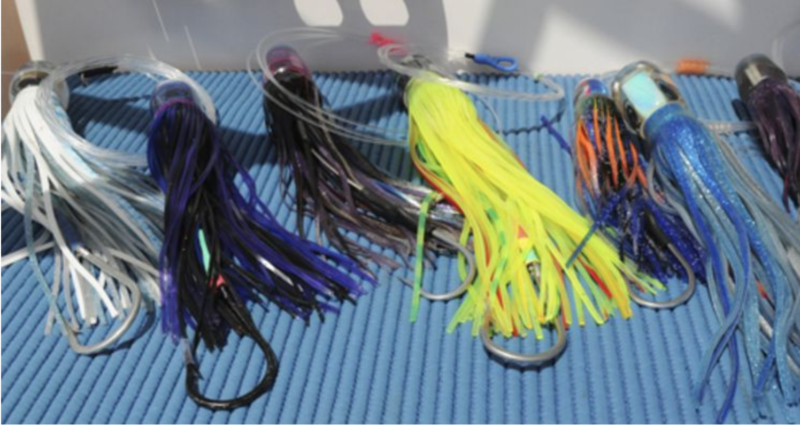 Group No. 1: Mark, Skipper/crew and fisherman (Dutch), me – crew/skipper (Bavarian), Peyxe – Crew (Cape Verde), Timur – fisherman and star ship's cook (Turkish), Milosz – fisherman (Polish) and Joachim – fisherman/crew (German/Austrian)
Here are the catch results:
| Days | h | Area | Blue Marlin in lbs. estimated *) | Catch : HUs | Wahoos | White Marlin |
| --- | --- | --- | --- | --- | --- | --- |
| 26.04. | 3 | NW-Bank | Timur: 600 + 250 | 2 : 4 | – | Joachim: 60lb |
| 27.04. | 6 | NW-Bank | Milosz: 400 + 350, Mark: 500 | 3 : 8 | 2: 30, 40 lb | – |
| 28.04. | 5 | Return journey | Joachim: 650 | 1 : 3 | 2: 40, 50 lb | – |
| 29.04. | 3 | NW-Bank | Timur: 350, Joachim: 250 | 2 : 4 | 3: 20, 50, 60 lb | – |
| 30.04. | 6 | S. Antao | Jigging + bottom fishing unfortunately | only small fish | weighing up to about 1,5 kg |   |
| 5 | 23 |   | 8 | 8 : 19 | 7 | 1 |
The lads had three double hook-ups and they caught four of their marlins standing up! Regrettably, the weather conditions that week were mostly borderline. Additionally, the marlins were very cagey and when they did attack our lures it was mainly with their bills without actually biting.
These were the first marlins for Milosz and Joachim: blood, sweat and tears and much too much adrenalin – probably just like the rest when we experienced it "for the first time"!?
First prize in our internal competition "Who caught the biggest blue" went to Joachim. He won a cup donated by Timur and had the honour of being permitted to invite us all out to dinner. On 2nd May we held a combined farewell and welcome celebration – with all the trimmings!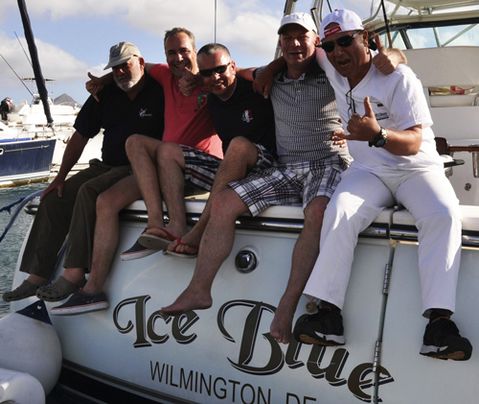 Group No. 2: Frank – fisherman (Netherlands), Jeantino – fisherman (Netherlands) and Frank – fisherman/ship's cook (Belgium). Here's what they caught:
Days
h
Area
Blue Marlin in lbs. estimated *)
Catch : HUs
Wahoos
Other fish
04.05.
5
St. Pedro
No contact with fish
–
–
–
05.05.
 
 
Weather too bad
 
 
 
06.05.
4
NW-Bank
Frank-NL: 680 + 600, Jeantino: 300, Frank-B: 250 + 300
5 : 8
4
Jeantino: Big-Eye 140
07.05.
7
NW-Bank
Jeantino: 650 + 700plus + 350, Frank-NL: 450 + 400, Frank-B: 600
6 : 9
3
–
08.05.
4
NW-Bank
Unfortunately only 3 hook-ups
0 : 3
3
1 Rainbow Runner, 3 Albacore
09.05.
6
NW-Bank
Mark: 300,
Frank-NL: 700plus,
Jeantino: 300
3 : 3
2
–
6
26
 
14
14 : 23
12
5
HUs" = Hook-Ups; "h" = the number of hours with lures in the water "*)"weight estimated in lbs. by Mark, Pexje and myself.
These lads had two double hook-ups and they caught three of their marlins standing up. The weather conditions experienced by the second group were significantly better than those experienced by the first group.
Here is my attempt to provide a statistical evaluation (with no claims whatsoever to CV validity):
Our most successful marlin lures: BWF Grander (my special model) 1238 black/purple and BWF Big Smoker light blue/silver/white; for wahoo: Iland HooLaHood Flasher and my home-made lures. I brought along some PLATIL marine mono line (made in Germany) which performed very well!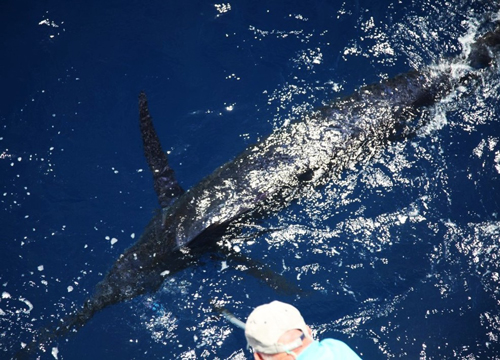 Summary:
As the ICEBLUE skipper/crew team Mark and I learned a lot. We now work hand in hand (almost) perfectly. Thank Poseidon that we had no significant technical problems and that we did no serious damage with or to the ICEBLUE. The fact that amateurs like us were able to fish so successfully, to manoeuvre in such a difficult sea area (Sao Vicente – Santo Antao – Banco Do Noroeste) and to get away with it unharmed demanded plenty of competence, discipline and concentration! In spite of being very careful we did get caught up in a fishing net; Frank C. didn't hesitate for a second, dived into the sea and untangled the mess. Unfortunately, we couldn't get hold of any ballyhoo in Mindelo for switching; this is a mistake in our planning that we are guaranteed not to make a second time!
During the planning and organisational stages I was worried about two groups of randomly selected fishermen from different countries getting along with each other. However, apart from the fact that I speak no Dutch/Flemish, I had a great time with these lads from Poland, the Netherlands, Turkey, Belgium and Austria!
But the most important thing for me was that except for some bruises, blisters, headaches (that had nothing to do with fishing) and sore muscles there were no significant injuries; also that the ICEBLUE is back in Mindelo Marina in top shape – ready for her next fishing outing!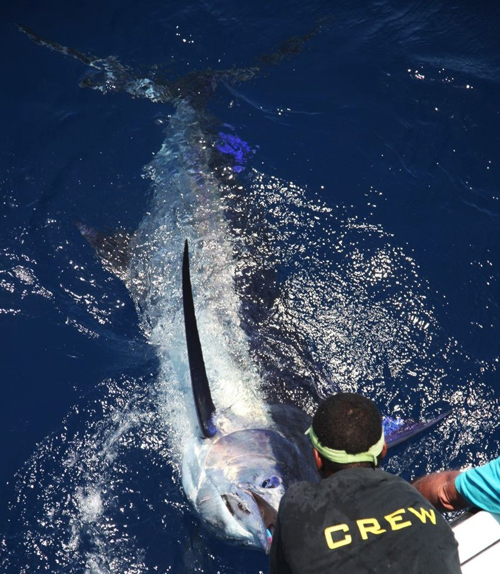 Comments on speed jigging: The lads tried this "modern and sporting angling method" for a couple of days but as usual it was a complete waste of time. Without precise knowledge of the area or a guide it is unprofitable. Yet hear-say has it that Madeira groupers are to be found at greater depths and are regularly caught by Spanish fishermen!? At least we did manage to catch some fish off the bottom which provided some delicious fried filets for dinner. All the fish caught and gaffed by groups 1 and 2 were given away to the locals or devoured by ourselves with great gusto!
Finally my special thanks go to the professional Canaries captain Petro Gomez for preparing the ICEBLUE so well, for his in-depth instructions and the numerous useful tips; Petro is also a most amiable and humorous guy! I would also like to thank professional German captain Mathias Henningsen for his promise to help us immediately if we had any problems.
Robert Rein, Munich, May 2013