The History of Big Game Fishing
Big Game 1896–1978
The "good old times", the magic moments of the pioneers – always remember that until the late 1950s there was no (suitable) mono, glass fibre, carbon fibre or the like. They fished with hickory, bamboo or steel rods; lines were made of braided natural fibres (cotton, silk…)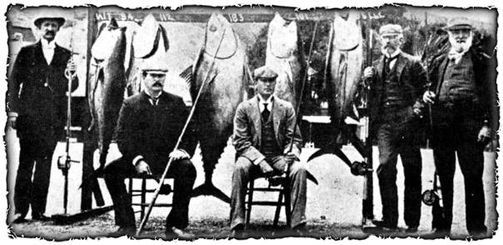 The founder members of the Avalon Tuna Club in 1986.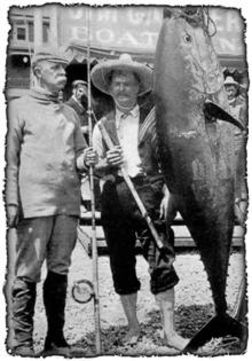 C.P. Morehouse with his 251 lb Bluefin tuna, Catalina Island 1899.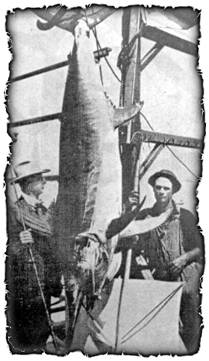 William C. Boschen with the first ever Broadbill caught on rod and reel (even in those days with the help of a kite), Catalina Island 1913.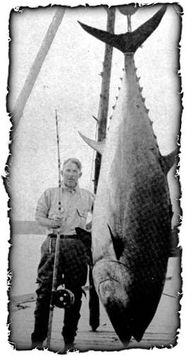 Zane Gray with his world-record Bluefin tuna weighing 758 lbs, 1924 Nova Scotia – at the time a tremendous feat.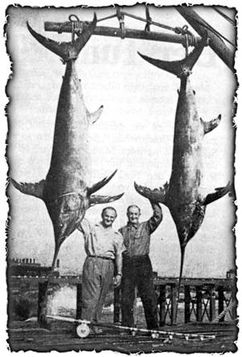 Michael Lerner with two Broadbills, Chile in the 1930s.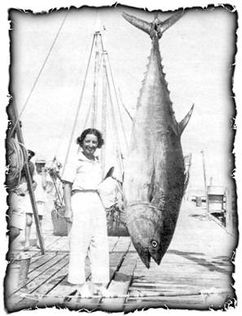 Helen Lerner caught eleven Bluefin tuna in 1938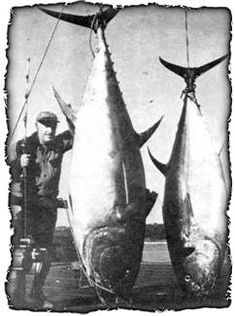 W. G. Schauffler with a 664 lb Bluefin tuna, Maine 1940.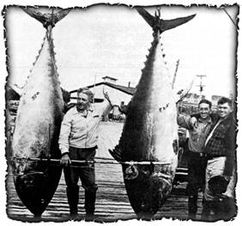 Tommy Gifford with an 880 lb Bluefin tuna caught back in the 1930s using 24-thread/70 lb line – a world record.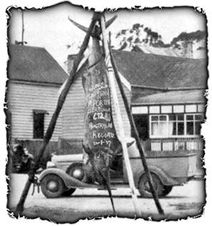 Jim Porter's Black Marlin of 672 lbs. 1937 Victoria, Australia.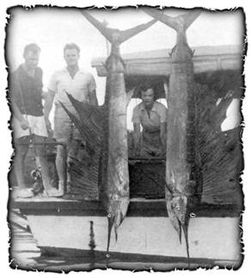 S. Kip Farrington with a Pacific Sailfish weighing 141 lbs. Panama 1939.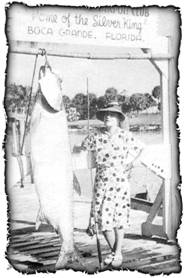 Marjory G. Drexel with her record-breaking Tarpon weighing 187 lbs. Boca Grande, Florida 1943.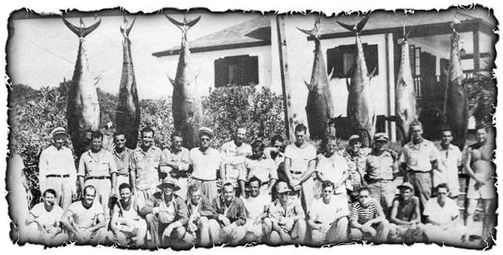 Cat Cay Blue Fin Tournament, Bimini 1939 – the Second World War had just begun in Europe…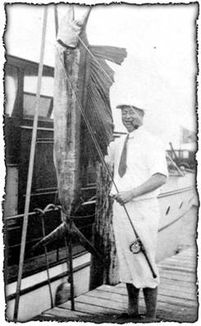 Harlan Major with an Atlantic Sailfish weighing 69 ½ lbs. 6-thread line, North Carolina, August 1936.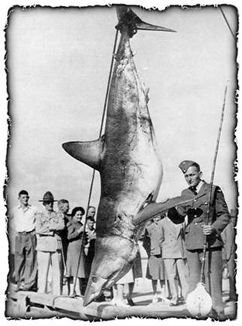 Baxter Ross with his world record breaking Mako shark weighing 1,041 lbs. Tauranga New Zealand, March 1943. The tide was beginning to turn in Germany….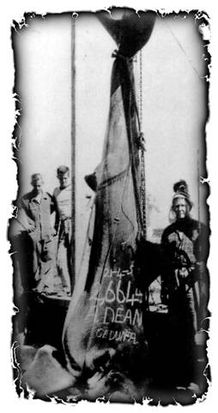 Alf Dean with a Great White weighing 2,664 lbs. South Australia 1959 – the biggest fish ever caught on rod and line complying with IGFA rules.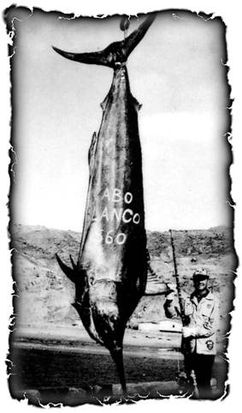 Alfred Glasell with a 1,560 lb Black Marlin, 1953 Cabo Blanco Peru – the record still stands today.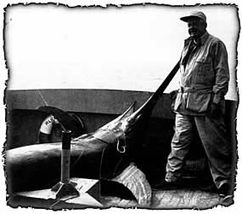 Lou Marron with an 848 lb Broadbill.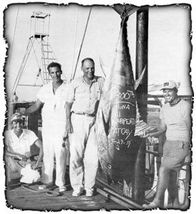 Bill Carpenter with his 300th (!) Bluefin Tuna. 1959 Cat Cay Bimini.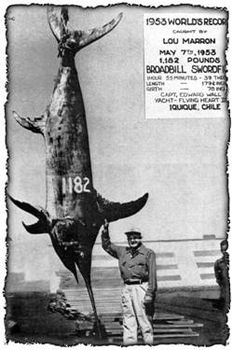 Lou Marron with his legendary Broadbill – this world record is still standing.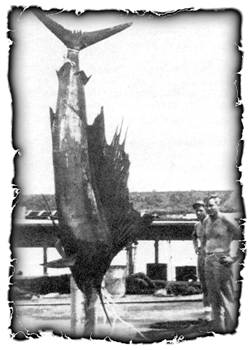 Carl Stewart with a 221 lb Pacific Sail, Ecuador 1947 – the record still stands.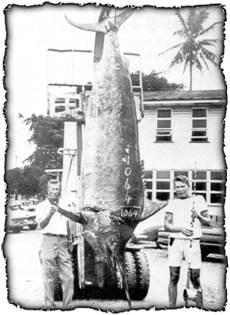 Richard Orbach with the very first Australian Black Marlin Grander weighing 1,064 lbs caught on 80 lb tackle. World record in 1966, Great Barrier Reef.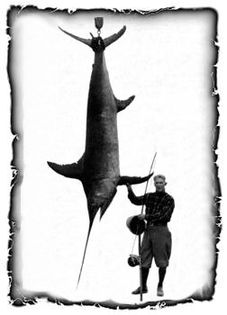 Zane Gray, Avalon 1926 with his world record breaking Broadbill.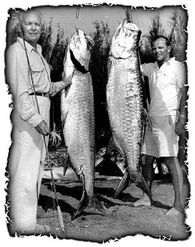 Cliff Fitzgerald and Jimmie Albright with two of the first Tarpons ever to be caught on fly-fishing rods (bamboo), 1940 Florida Keys.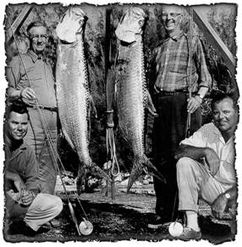 Left to right: Cecil Keith, Ernie Maxim, Horace Atkins and Jimmie Albright with two Tarpons taken on 12 lb tippets (without shock leaders).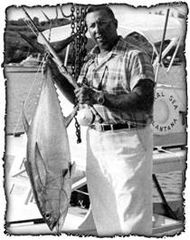 Mark Sosin with a Yellowfin Tuna – a great performance with a fish this size.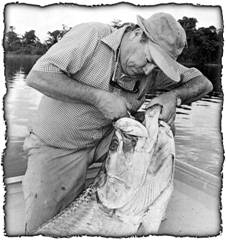 Lefty Kreh, "the uncrowned king of saltwater fly-fishing" with a giant Silver King.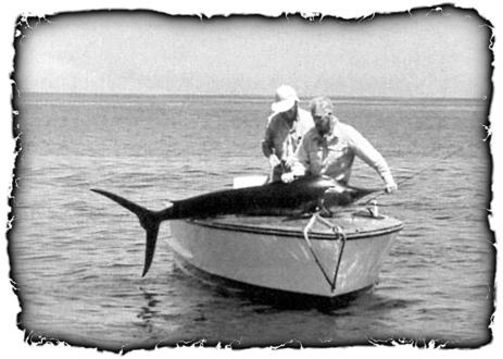 Lee Wulf with his 148 lb Striped Marlin, caught on 12 lb tackle – an IGFA record that still stands, May 1967 Ecuador.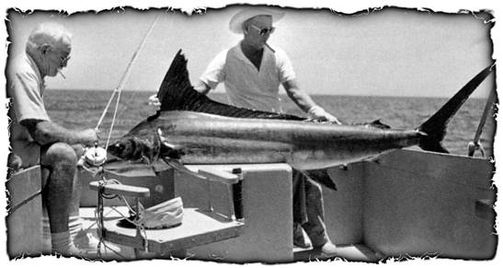 Doc Robinson with one of the first marlins to be caught with a fly rod.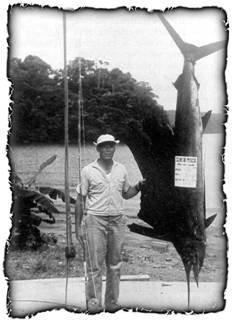 Stu Apte with a 136 lb Pacific Sailfish taken on 12lb tackle – an IGFA record that still stands, June 1965 Panama.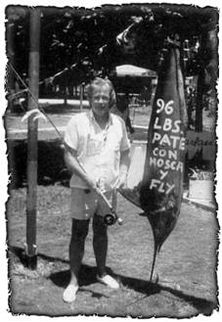 Billy Pate with a 96 lb Atlantic Blue Marlin, the first of its kind to be caught on a 16lb tippet. 1978 Cuba.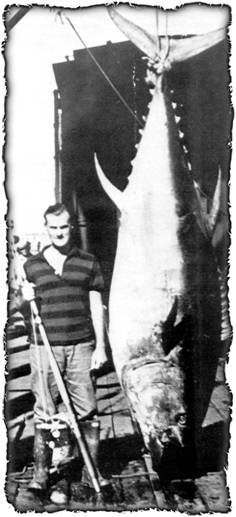 S. Kip Farrington with a 765 lb Bluefin Tuna, 9-thread/100 lb line. North Carolina, August 1936.