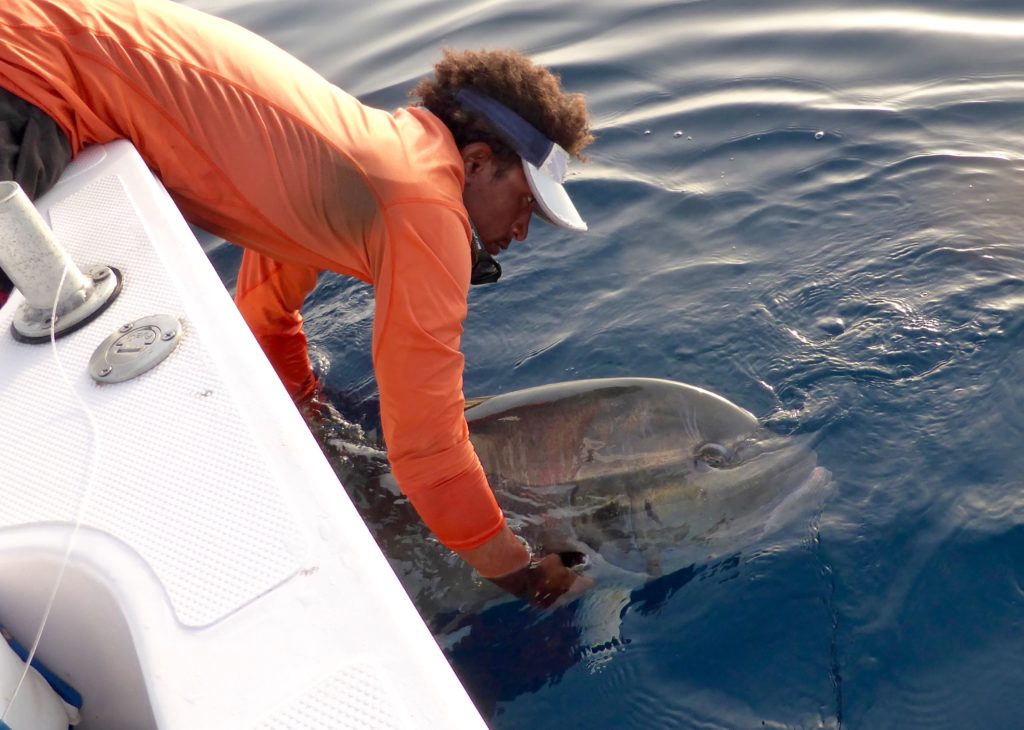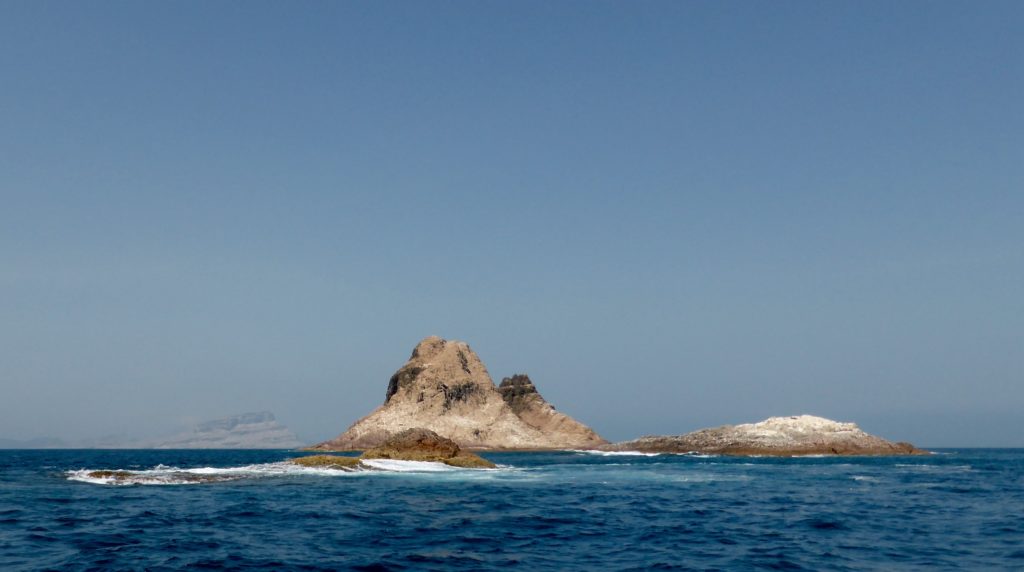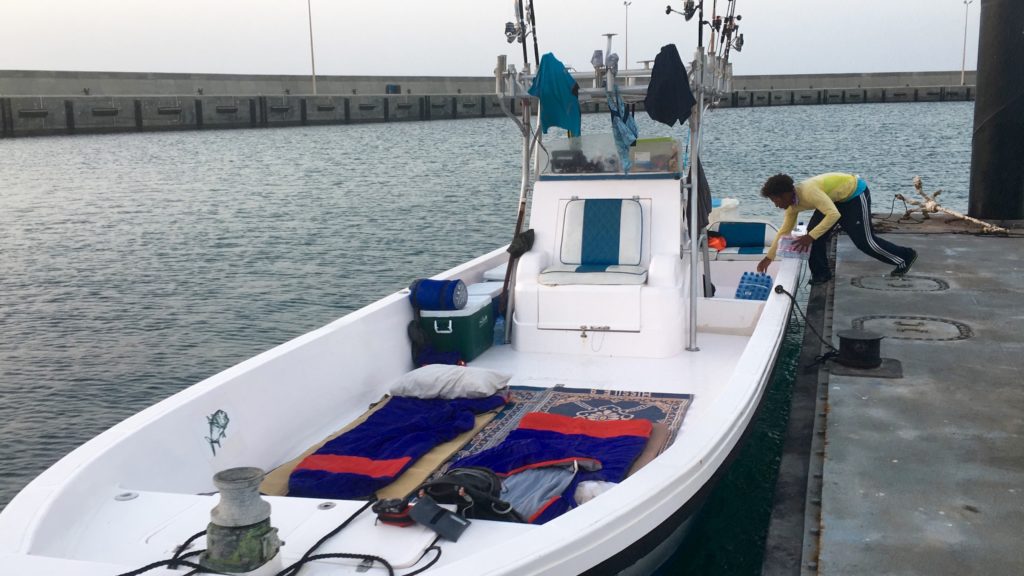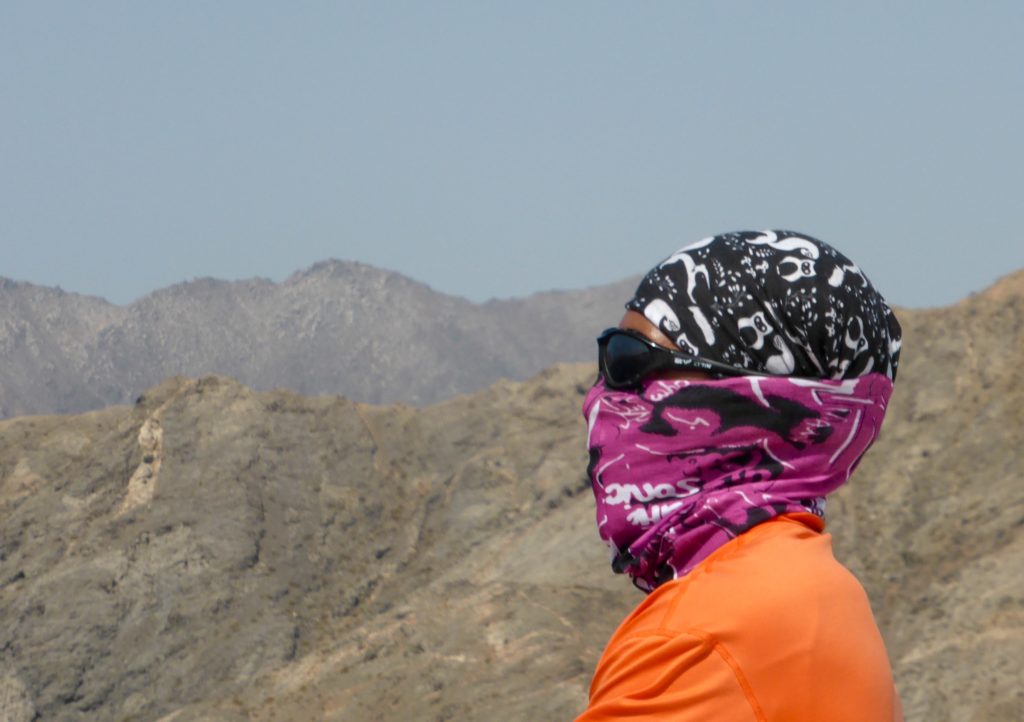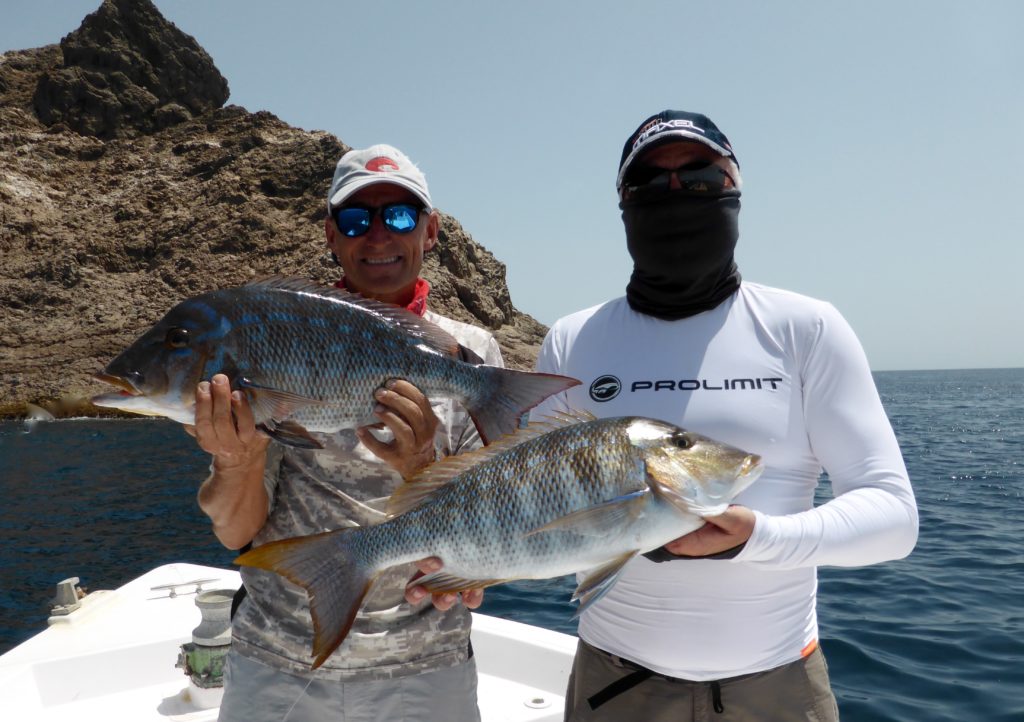 Cast, cast, cast…
Fishing in Southern Oman
After having enjoyed some phenomenal fishing last year our trip this year initially got off on the wrong foot. It started when Josuf Al Mahri (the proprietor of the "GT Fishing Oman" lodge based in Hasik) reported just before we were due to leave that it would be advisable to postpone our flights for a couple of days due to the poor weather conditions, otherwise we would most likely be unable to reach the fishing spots with wind speeds of up to 20 knots.
After discussing this with my fishing buddy Jürgen Ziller we cancelled our flights and waited on standby with our suitcases packed. A week later weather conditions had improved. Josuf and his skipper Junus gave us a green light. We rebooked our flights and were on our way a few days later with no problems this time.
Days 1 & 2: If you have ever fished for GTs in Oman before you will know that you have to work hard to capture your fish. Over 400 casts a day at temperatures of around 37 degrees and with heavy tackle are certainly no bed of roses. We started with a two-day outing, spending the night on board in sleeping bags. We fished the reefs off Hasiki, Soda and Hallaniyat. Over the two days we had 4 bites, two of which ended with GTs weighing 48 and 25 kilos. A further six tracked our lures, in some cases right up to the boat, without actually attacking them.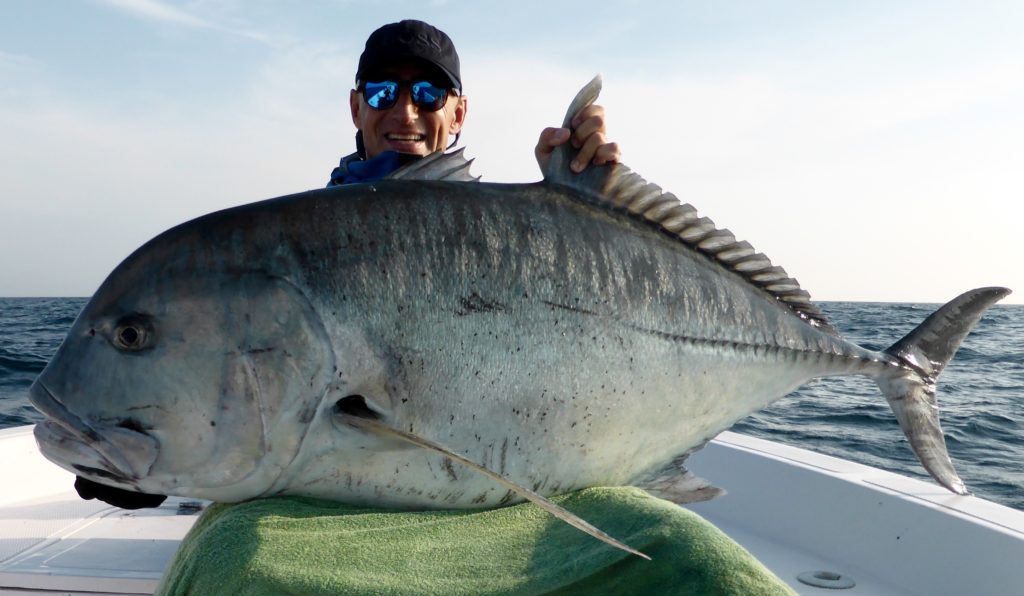 Day 3: Having spent the night in the Hasik lodge we fished the local reefs. Not a single GT put in an appearance. We switched over to light tackle and were rewarded with 12 emperor angelfish and a beautiful dorado for dinner.
Days 4 & 5: Another two-day trip with a night at sea was on the programme again. On our very first drift in the early morning we caught a GT of 35 kilos on our first stop. Then things went very quiet until noon. Two GTs showed up late that afternoon but neither of them actually attacked our lures. Later on we discovered some queen-fish and managed to catch 3 of them.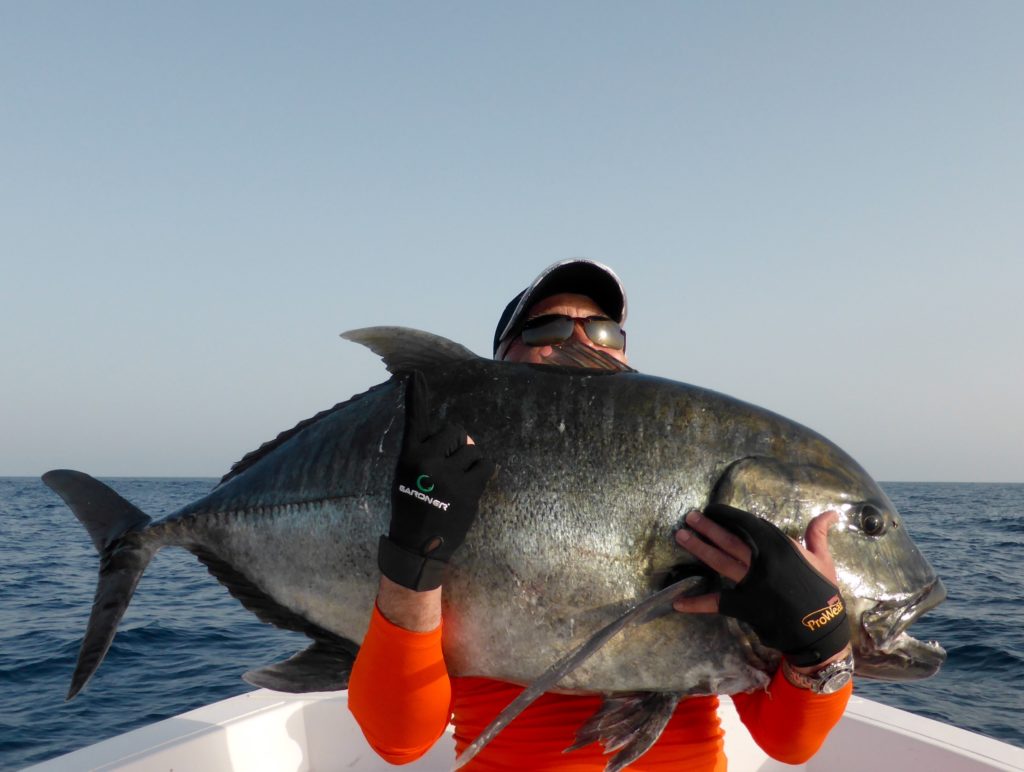 The following day turned out be the greatest one during our trip. Having spent the night on our sleeping bags we started fishing a hot spot at the crack of dawn. After only the second cast we had a gigantic bite and were able to catch a 145 cm GT weighing 55 kilos. A few casts later we had another one in the boat weighing some 35 kilos and shortly afterwards another smaller specimen. Elation all round. On our way back we caught a beautiful queen-fish towards noon and had another 2 GTs tracking our lures
Day 6: The last day brought high winds and waves so we were unable to get out to the islands. We tried our luck fishing inshore and were moderately successful at a couple of jigging and light tackle spots.
Summary:
In Oman you need a great deal of tenacity and, of course, a lot of luck with the weather and bite times. Jusf and his team were highly motivated and did their very upmost – but not for a second leaving anything to chance in terms of absolute personal safety. From our perspective Junus, our skipper, performed a first-class job. He knows the area inside out and always has a few special things up his sleeve. The boat is ideal for this type of fishing. There is plenty of room for casting and with its length of 33 feet it is stable and safe at sea. The lodge is neat and tidy and the cook always served us great dinners.
Large shoals of permits arrived during our stay on Hasiki Island and the many local hand-line fishermen made it almost impossible to target them with poppers. Fishing pressure has also increased noticeably at the hot spots. At times there were up to 7 charter boats and over 30 hand-liners…
In six days we caught 6 GTs weighing 55/48/35/35/25/15 kilos. On top of this we had two missed strikes by big fish and ten GTs tracking our lures. We additionally caught 4 queen-fish, 2 dorados, 12 emperor angelfish and when jigging some small bonitos and red snappers.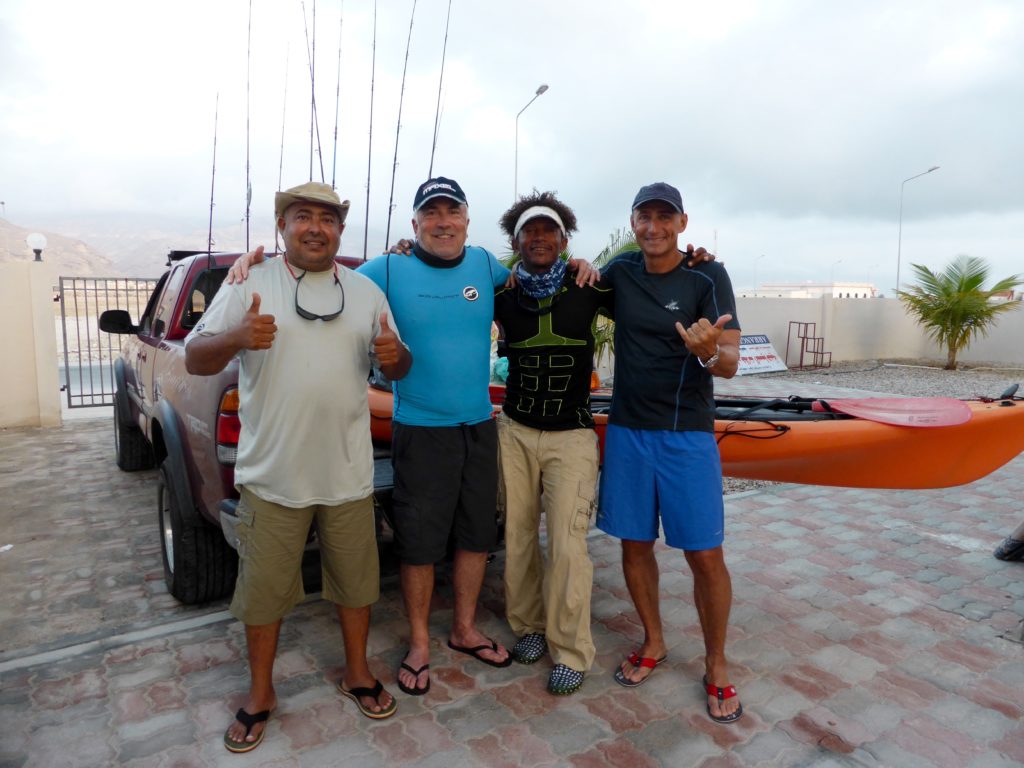 For further information on the lodge and the fishing go to: www.gt-fishing-oman.com
Tight Lines
Stephan Kreupl, April 2018