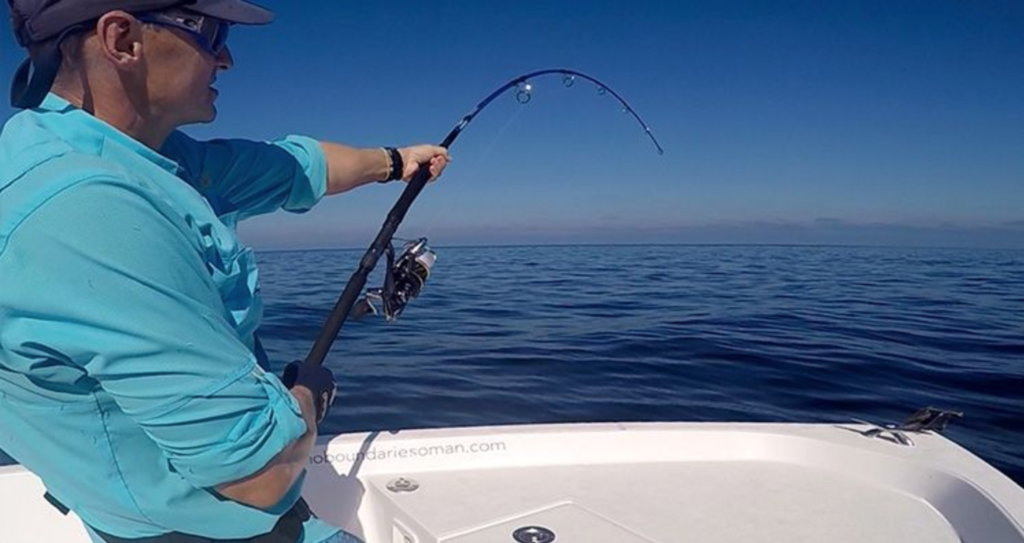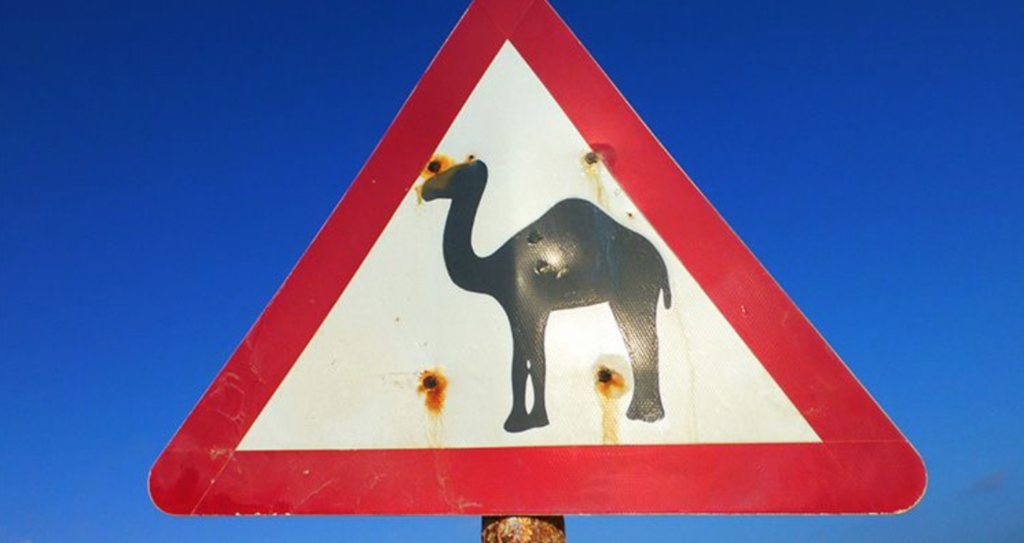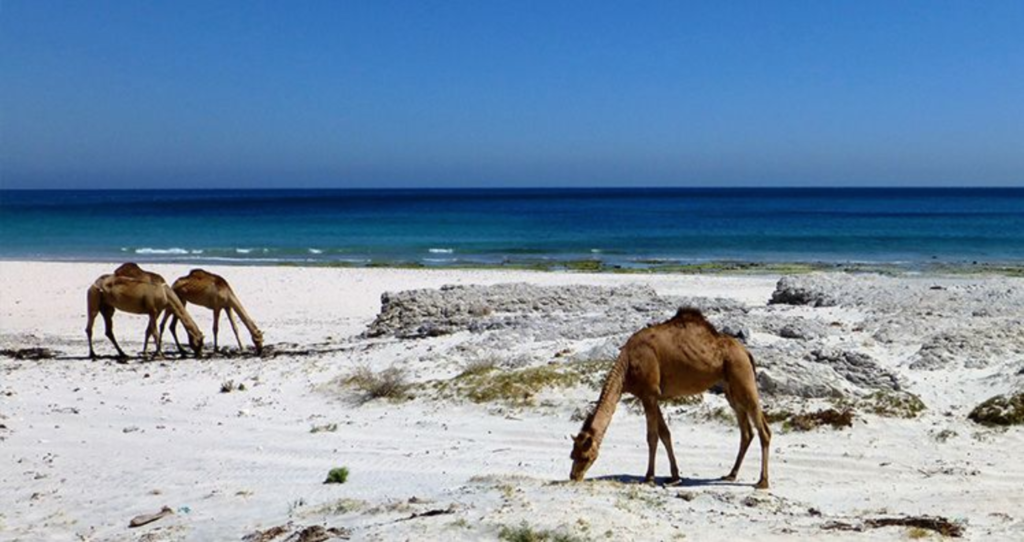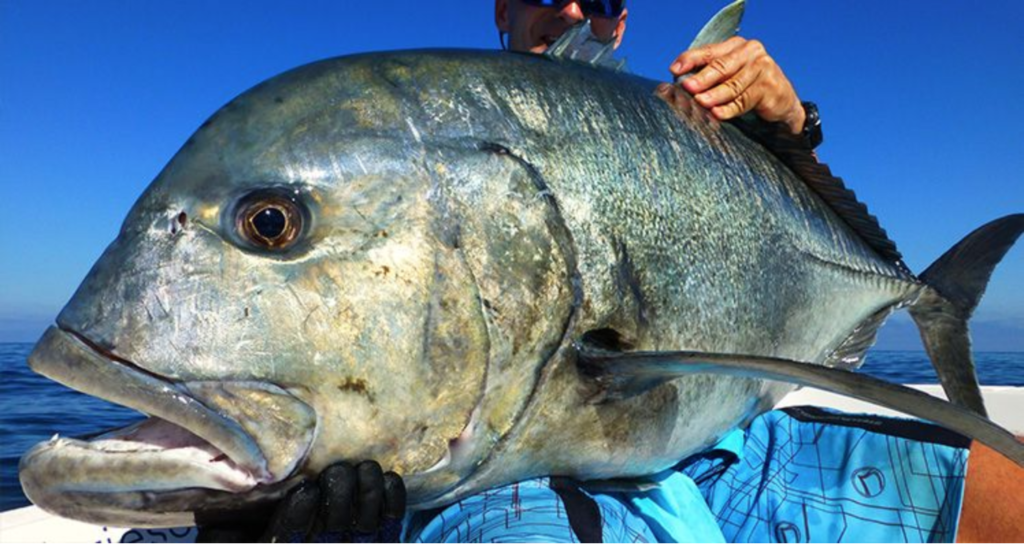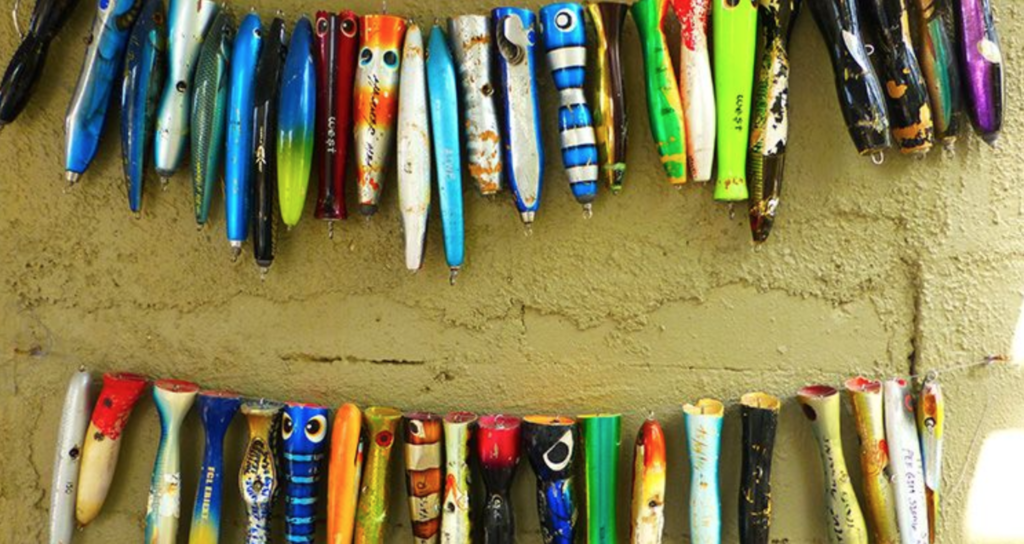 Popper Fishing in Southern Oman
More camels on the beach than GTs in the water?
A long time ago I travelled to Yemen to do a bit of fishing and afterwards swore never again to go anywhere near that region on a fishing trip. Although the fishing was good the attendant circumstances were, putting it mildly, a catastrophe. A few decades have elapsed since then and Oman is in no way comparable with Yemen. The Omanis like calling their country Arabian Switzerland. Oman is safe and the people very hospitable. You never get the feeling of being at risk there.

For insiders in the angling fraternity Southern Oman around the Hallaniyat Islands is a hot-spot for catching monster GTs with poppers. I made a spontaneous decision and booked a week's popper fishing with the "No Boundaries Fishing Group". E-mail communications with "Ed", the lodge owner, went smoothly and the trip was booked in no time. The flight from Frankfurt to Salalah via Muscat took around ten hours. A friendly taxi driver was waiting right outside the arrivals gate with a sign with my name on it. We immediately set off in a Northerly direction for the roughly 350 km long journey to the lodge along the coast. This took about 3 ½ hours with a couple of stops to take some photographs.
On arrival at the lodge I was shown to my room and set about making preparations for the following day. The lodge is not a hotel and in my opinion not suitable for a family holiday for the simple reason that there is little else to do than go fishing. The lodge is clean and modestly furnished. There are no televisions or WLAN connections. The telephone network functions very well and reading your e-mails or surfing the net with a smart phone is no problem. However, using your mobile via your provider back home can be very expensive. It is definitely worthwhile buying a prepaid card at the airport – the friendly taxi driver will be pleased to help you. 
The alarm clock went off at 5.30 a.m. After breakfast we were picked up at about 6.15 a.m. by cars with trailered boats. After a twenty minute drive we launched the boats in a sheltered bay. After that we set off at full throttle (sea conditions permitting) for the Hallaniyat Islands which are some 42 sea miles away. At 8 a.m. we were at long last ready for the serious business of casting poppers and stick-baits. Here, as in most other popular popper fishing spots around the world, the motto is "long cast – big fish"…

Fishing Day No.1: Highly motivated to start off with but later disillusioned, we stopped after 6 hours of popper fishing and some 350 casts – what was happening? We were having trouble with green waters and temperatures of between 22 and 24 degrees which made fishing very difficult. Even in Oman the monster GTs don't jump into your boat.
Fishing Day No.2: The same procedure at another spot and by the end of the day after 350 casts, in spite of the adverse conditions, we raised two fish, had a good strike and hooked a beautiful GT – celebrations all round!
Fishing Day No.3: After some 250 casts in rough sea conditions we hadn't seen a single fish. Unfortunately, the sea was still green – so green in fact that you couldn't see the bottom at a depth of 10 meters. Towards noon the high winds forced us to return to the lodge through a very lumpy sea.
Fishing Day No.4: South-easterly storm – fishing impossible.
Fishing Day No.5: South-easterly storm – fishing impossible.
Fishing Day No.6: The wind had dropped so we made another attempt at reaching the Hallaniyat Islands, but after about 5 sea-miles we had to turn back because the waves were still too high. We then tried to catch some reef dwellers in the green and brown water but were unfortunately only moderately successful.
Fishing Day No.7: The wind turned and a desert sandstorm developed. Trip abandoned prematurely. Back to Salalah and then onwards to Frankfurt.
Summary:
Actually I never wanted to go back – I was really so frustrated. However, there are no refunds for days cancelled due to the weather and you are given credits for the next trip in lieu. This means that Oman will be getting a second chance. 
Ed, the owner of the lodge, is not only a sportive guy but also a passionate popper fisherman who has promised to select a suitable time window for the next trip himself.  The two cooks from Bangladesh always prepared fine and substantial dinners. The crews all come from Kenya, speak very good English, and are friendly, motivated, helpful and very affable. 
The Omanis are a peaceful and devout people and I found them to be very hospitable. Day in and day out the Imam punctually calls the believers to prayers in the mosque and everybody goes. 
One thing really annoyed me, though – and it is something inexcusable in this day and age. You see plastic rubbish wherever you go. Regrettably, the Omanis still dispose of their plastic rubbish in the sea, throw it out of their car windows or just deposit it anywhere in the countryside. The endless beaches are choked with rubbish – it makes your heart bleed.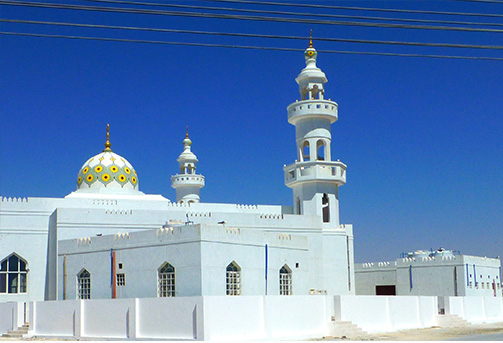 I appeal to all Imams: Please use your sermons to tell your brothers and sisters not to throw rubbish into the sea or throw it away in the desert. Plastic takes up to 1,000 years to fully decompose. Oman is a progressive country which is dependent – apart from oil – on sand, rocks, tourists and the sea. Mountains of rubbish are not good. Not good for you, your future and certainly not for the natural resources you depend on. 
At this point I would like to make a bet.
Under the motto "fishing is not catching" I bet that during my stay there were more camels wandering along the beaches than GTs swimming in the sea ☺ 
Here's to a better second time around – Inshallah 
Stephan Kreupl, February 2015